PLEASE PLEASE PLEASE FORWARD THIS FAR AND WIDE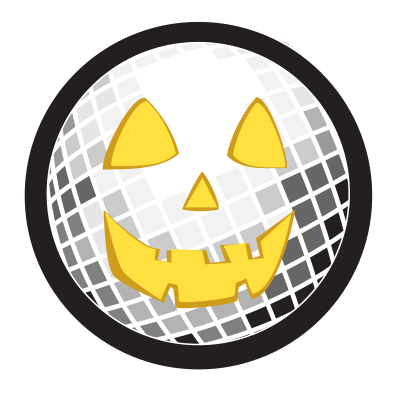 Let's take back Halloween in San Francisco with a big costume / dance party at the Embarcadero!
WHERE: EMBARCADERO at Ferry Plaza (in front of the Ferry Building)
WHEN: SATURDAY, OCT. 31st at 9:00 PM
HOW:
If you have a costume wear it - COSTUMES HIGHLY ENCOURAGED!
If you have an out door music set up of any kind (like a DJ, or a music bike, or a band, or even a boombox) BRING IT (If you know anyone who has one, GET THEM TO COME! - see below!*)
SOMEWHERE ON YOUR COSTUME, WEAR ONE OF OUR "FIX IT" BADGES (see below)
HELP clean up after yourself AND OTHERS

IF YOU SEE ANYONE BEING A JERK, INTERRUPT THEM BY SMILING AT THEM AND THANK THEM FOR COMING TO HALLOWEEN!
OPTIONAL: BRING TREATS TO GIVE OUT!
WEBSITES:
Facebook: http://www.facebook.com/event.php?eid=160795072105
This page: http://www.flashdance.org/hw/Halloween2009.html
A lot of us are heartbroken that Halloween in the Castro was killed off. Sure, there were things that sucked about it, and sure it had gotten to the point that there were too many gawkers and not as many awesome costumes, but the way to deal with these problems was to fix it and work with it, NOT KILL IT. Halloween in the Castro was inspiring, hysterical, brilliant and essential too. For years and years it was one of the highlights of being a a San Franciscan....
So what to do? Let's TAKE IT BACK AND FIX IT AT THE SAME TIME!!!!
TAKE IT BACK: Let's make a NEW San Francisco Halloween scene!
FIX IT: Let's make it better - promote a FUN, ZANY, COSTUMED vibe without the violently-drunken idiots. Also, let's not trash this beautiful city that we love - let's leave it at LEAST as clean as we found it!
To take it back, let's have a big-ass dance party along the Embarcadero! We have at least two mobile DJs (but we would love more! KNOW ANY?*) We'll set up at Ferry Plaza, near the Ferry Building (at and if any more show up, they can set up nearby. Maybe it will be just be one or two of us, maybe it will be more... But all great SF mass events started small and got bigger - this is YEAR ONE!
The fixing is harder than the taking it back. The folks behind this have lots of experience bringing together small groups (100 - 150) of fun, positive, party-minded folks into a good time - but a larger group will be out of our control. THE KEY TO FIXING IT IS YOU. The one thing that we have learned is that the attitude YOU bring sets the tone - so here are our SUGGESTIONS:

WEAR A COSTUME! Just being in costume will make it more of a fun thing and less of a gawker thing...
BE POSITIVE AND NICE TO EVERYONE, including the people who aren't being positive, nice or in costume :-)
Clean up any trash you see while you are there and especially when you leave! LEAVE NO TRACE! (& remember there aren't a lot of bathrooms down their! Plan accordingly.)
Sure, have a drink if you want! But make sure drinking isn't the focus of the night. Too many great SF events have had problems when "drunk" comes before "FUN" - we like FUN & hope you do to!
As a sign you are on board with FIXING it by making it fun and positive, PRINT OUT one of these "FIX-IT" BADGES & WEAR it prominently on your costume:
a) Our Happy-Disco-Jack-o-Lantern (see above) but also here: http://www.flashdance.org/hw/Disco-JoL.png
b) A BIG YELLOW SMILEY FACE : http://www.flashdance.org/hw/bw-smiley.jpg
Sign up for our TXT messages (send a text message with the word SFHALLOWEEN in it to 41411 AND FOLLOW THE CONFIRMATION INSTRUCTIONS) to get updates on your phone the night of.

COPS: There is a chance we might get shut down. Maybe, maybe not. We encourage you to sign up for text alerts (follow instruction 6 above!) in case we need to move the dance party. But in any case, if the police show up, remember to be courteous above all else. Almost all the cops we have dealt with in these situations have been decent folks just trying to do their jobs. Regardless, of whatever happens, let's show the city that we can organize our own party and do it with fun and class.
This is ALL a big experiment - we have no idea how it will turn out - but let's try - we think it will be AWESOME!
*GOT MUSIC?: We need you! IF YOU ARE A DJ OR BAND - Bring your gear with your own power system (we've seen you set up at Dolores Park - we know you can do it :-) ALL DIFFERENT KINDS OF MUSIC ENCOURAGED! A DRUM CIRCLE ? - get your hippie on! INTO TRANCE? FINE - BRING IT. HIP HOP - HELL'S YEAH! DRUM & BASS - NEEDED! COUNTRY AND WESTERN? WE LOVE BOTH KINDS OF MUSIC! KLEZMER - You know it!..... You get the idea - you got MUSIC - WE WANT YOU THERE!
Bring your set up - you'll need your own power if you're a DJ.
Don't start music until 9 - let's all start at once - less risk of a shutdown!
We'll set up in Ferry Plaza in front of the Ferry Building, so when you arrive set up your gear at the next open spot nearby. Just be respectful of the sound system near you & head on down towards the Bay Bridge - maybe someday we'll fill the whole Embarcadero! :-)
Brought to you by the fine folks behind FlashDance and Black Rock Roller Disco!
http://www.flashdance.org
http://www.cora.org