★

Why do you do this? Well the short answer is here

(from my interview on

SFist.com

):
    Q: So... what on Earth are you doing?

    A: With my FlashDances? Well a bunch of things:

• Trying to leave things better than I found them...       


• Getting to play DJ... and dance to stuff I want to dance to.


• Bringing people together


• Proving what kind of fun you can only have in dense urban spaces!


• Shakin' my ass.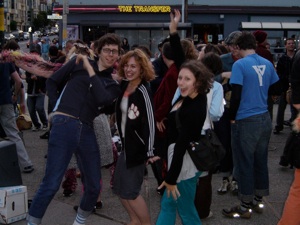 But the long answer that I have a SECRET AGENDA!  Well, not so secret as I wrote all about it here. :-)

★ How did this all come about?

     I was in Paris in the summer of 2005 & found a place along the Seine where every night there was a free, open-air salsa dance party that just kinda happened & I thought "Why not in SF?"

Then a few months later, when I made my Disco Ball 3.0 Halloween costume, everywhere I went became a roving outdoor dance party & I knew I could pull off something bigger....

So in November of 2005, I collected all the necessary technology, emailed everyone I could think of, and attempted my first FlashDance in Dolores Park.  It was big fun.  

It took me 6 months to get around to
FD2 at Church and Market
, but that was even MORE FUN. 
FD3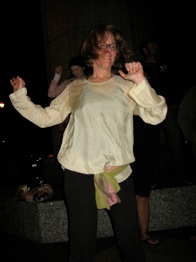 was a whole 'nother level and at that point I knew it was go!

And I'd be remiss if I didn't mention Burning Man here too.  BM both inspired me and challenged me: you can make large-scale fun things happen and why the hell do you have to wait for one week in the desert?

★ What kind of music do you play?

    I play awesome dance music :-) But that is pretty subjective, isn't it :-)  But basically, for my purposes, I play a lot of pop music goodness with some electronica, hip hop, and Indian stuff mixed in.  The goal here is to keep the maximum amount of people dancing and making them happy - so I'm all about accessible, broad and big tent.  And did I mention I love pop music?

The best way to get a sense of what music I play is to check the playlists from the previous FlashDances (Click HERE).  I think the last few have been the best musically (FDs 16 - 18 as of this writing.)  But feel to check them all out.

So in general, I try to play stuff that a lot of people will like and will dance to.  If it is fun and accessible, I want to play it. Here is a sample of what I'm talking about:

        Lots of Funk: Prince, Parliament Funkadelic, James Brown, Sly & The Family Stone

        Lots of Fun Hip-Hop (not much gangsta): Lyrics Born, Black Eyed Peas, Jurassic 5, Blackalicious

        Lots of Soul/Pop: Michael Jackson, Stevie Wonder, Jackson 5, Madonna

        New Pop: M.I.A., Gorillaz, Beck, OutKast, Beyoncé, Justin Timberlake

        80's Pop: Madness, ABC, Billy Idol, B-52s etc

        Fun electronica: Basement Jaxx, Groove Armada, Fatboy Slim, etc.

        Accessible Indian stuff: a few Bollywood numbers, some bhangra, DJ Cheb i Sabbah, Panjabi MC, etc

        And lots of Mashups.....

★ Do you take requests?

    YES!  I prefer suggestions are emailed to me before FlashDances! 

    I do take requests at the dances themselves, but it is MUCH better to give me stuff beforehand!  I always love broadening my tastes and hearing what new stuff is out there, and the best way to do that is through you folks. So email me more suggestions!

Specifically, I'm looking for things that I don't already play that GET A LOT OF PEOPLE HAPPY AND DANCING - email me your ideas, links from the iTunes store, places I can download etc.

NOTE: These need to be high quality song files (so no 128Kbps MP3s - 160 at least! 192 preferred!. FYI: most of my stuff is not MP3 but rather 128Kbps AAC.)

BUT PLEASE REMEMBER:
WE ARE LOOKING FOR MUSIC THAT A LOT OF FOLKS WILL LIKE!

Please DON'T take it personally if I don't play your suggestions, I get a lot of requests AND I'm also trying to keep A LOT of people dancing, NOT JUST YOU.

★ How many people show up?

    The past few have been pretty consistent with about 120 showing up and 100 people dancing at any one time. Sometimes they get as big as 150 people, sometimes as small as 80.

★ How big is the email list?

    As of this writing (March 2009) it is 1415 people.
★ Can I trust you with my email address?

    Absolutely. I will NEVER EVER give your email to anyone else unless you give me permission. PERIOD.

★ How much email will I be getting?

    Very little I swear! Just a few - "here it comes" messages & then some "show up now!" messages - I will control this list & be the ONLY poster. SERIOUSLY - I won't spam you!

★ What kind of locations are we talking about?

    We like locations that are public spaces (well trafficked with people), not too close to housing (with neighbors who get annoyed), and ideally close to transit (I no likey the cars).  Things like the plaza at the Embarcadero, in front of City Hall, the cable car turnaround at Powell & Market, Dolores Park, etc. I'M ALWAYS LOOKING FOR NEW LOCATIONS, SO EMAIL ME SUGGESTIONS.

★

Who the hell are you?
    Click over to this page over here...

★ What kind of sound system?

   I'm using my trusty Mac (Apple MacBook Pro) & a nice
Fender P-150
Yamaha Stagepas 300
Yamaha
Stagepas 500
. All of this mounted on my dear dear friend,
Trikeasaurus
, my roving bicycle music system!
★ When will the next one be?

    Soon! Here is the most recent invite.  I try to do one a month or so except during the winter.  The best way to know is to just SIGN UP.

★ Do you DJ parties?

    I like to if the vibe is right! If you want me to DJ yours,
send me some email
and we'll talk.
★ What is the best thing about FlashDances?

    YOU PEOPLE!  Sure, they are lots of fun and the outdoor dancing, the meeting new people, and the free celebration aspects are awesome, but at the end of the day, the truly best thing about FD is the vibe and the spirit created.  The communal joy and generosity is palpable.  And though I maybe set the table, eventually that all comes from you, not me.  YOU ROCK!  I luv my FlashDance peeps!

★What is the story on that super-fly logo you got there?

    My friend Adrian Cotter did it for me - and yes he IS amazing. It is evocative of a couple of things - the biggest is that a flash hits the ground and a dance party (as suggested by the disco ball) erupts :-).  Additionally, the warning sign seems urban to me, the disco ball is like my halloween costume series, it kinda looks like an "A" for "Amandeep", and also when I was a little kid, me and some friends had a club whose logo was a bolt through a circle :-)